It's that time of the year again when parents and kids are hustling to keep up with their back-to-school preparations and start the neverending shopping spree for school supplies.
Back-to-school season can be an exciting time for your children, but switching from summer-fun to school-time can also be stressful and overwhelming for both kids and parents. To help get your little ones back on track and reduce back-to-school anxiety, we've gathered up some tips to help you navigate the back-to-school season with creativity and ease.
1- Adjust wake-up time in stages
During summer break, kids' sleep schedule gets derailed. To avoid morning tantrums, adjust their wake-up time in stages. If your kids are used to having power naps midday, try to keep them awake all afternoon by engaging them in chores, sports practice, or playtime. Set earlier bedtime and wake-up time, so that they wake up everyday earlier than the night before. Create a bedtime routine that's free of screentime, electronics, or heavy meals, and opt for relaxing activities, like having a bath and reading bedtime stories.
2- Plan a fun school supplies trip
One of the best things about back to school season is the new school supplies we get every year. Think new statement backpacks, cool notebooks, pencils with their favorite superheroes or princesses, colorful binders and sharpies, fruit-shaped erasers. Getting your kids involved in choosing their school supplies will make them excited about the new school year and eager to see what it will bring. But before you embark on that fun shopping spree, make sure you set a budget and communicate it with your kids, so that they don't go overboard  buying useless supplies that cost a fortune. 
3- Create a homework station
Your little ones need a private place to write, draw, read and do their daily homework. A fun and well-organized homework station creates good study habits and can minimize distractions around them. You can create a school-inspired work station with a blackboard, book rails, and art displays. A personalized station with their name, artworks, and photos of friends and family will feel personal, warm, and can encourage them to study and make their after-school routine more engaging and less stressful for everyone.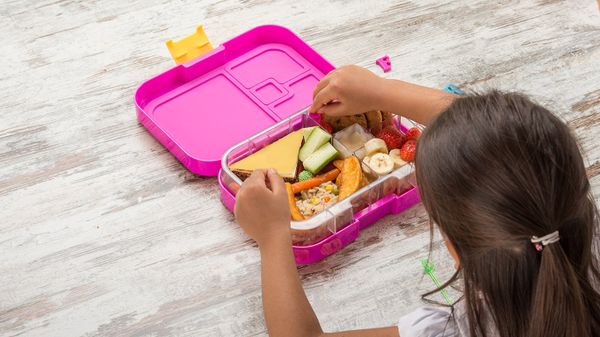 4- Practice lunchbox prep with them
Showing your kids how you prepare their lunchbox can get them excited about creating their own lunch and eating it everyday at school. Seize the chance to also teach them the value of not wasting food, and the importance of cleaning up their lunchboxes after they eat. Start your lunch box prep practice a few weeks before school, show your little ones what goes inside it, and guide them through creating the perfect healthy school lunchbox. 
5- Declutter
Beat the back-to-school clutter ahead of time and help your kids transition from summer flip-flops to study mode fast and easy. An organized space will help your little ones focus on their studies and prepare them for a productive year ahead.
Start by stocking their desks with necessary school supplies, preparing a day-by-day organizer for shoes, clothes, and socks, and engage your kids in picking their school clothes to get the morning rush out of the door. Get rid of the toys and clothes your kids no longer use or fit. 
6- Unpack back-to-school jitters
While some kids are excited about the start of a new school year, others need to be eased back into school mode. This will help reduce any anxiety, jitters, or negative school experience they may have. Help your kids process their feelings before the start of the school year. Remind them about the excitement of seeing their friends again, ask what excites them the most about the classroom, and encourage them to create a list of all the things they wish to achieve in their new school year.
But most importantly, enjoy the rest of the summer!
There are so many fun and engaging activities your kids can do while the weather is still warm. Make the best out of the remaining summer days before the school year begins. Allow your kids to enjoy what's left of summer and use these tips to avoid stressing out over your back-to-school readiness.
Need fast, smooth, and convenient assistance with your back to school shopping spree? Count on Breadfast to deliver all your back to school needs, from school supplies, stationery products, ready-made lunchboxes, tupperware, and many more. First time customer? Enjoy 10% off your back to school essentials (capped at EGP75) using code BTS10. Offer is valid until Tuesday September 13th.